:::
<!#--所有資料+cate tab --> <!#--detail-->
Metalworking Activity Contracts Further as Coronavirus Disruption Continues
Online Date: 2020/05/22
Modify Date: 2020/09/26
Source: Modern Machine Shop / MICHAEL GUCKES / May. 22, 2020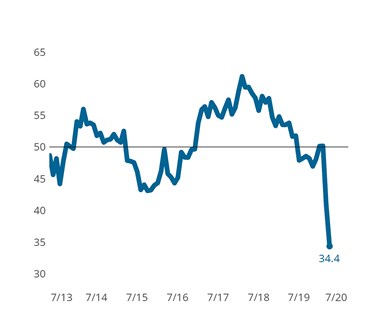 The Gardner Business Index (GBI): Metalworking reported back-to-back monthly all-time lows as it fell to 34.4, surpassing the prior all-time low by nearly 10 points. The coronavirus-induced trends from March worsened in the April data.
Gardner Intelligence's review of the six underlying industry components — whose average is calculated for the reading — indicates that the index was brought lower by changes in new orders, production and backlogs. New orders and production are considered directionally leading indicators of backlogs and employment in following months.
As with last month's report, it is important to remember that these readings represent the breadth of change occurring the metalworking industry is experiencing and are not to be confused with the rate of decline taking place. These low readings indicate only that a large proportion of metalworking manufacturers reported some decreased level of business activity without quantifying the magnitude of the downward change.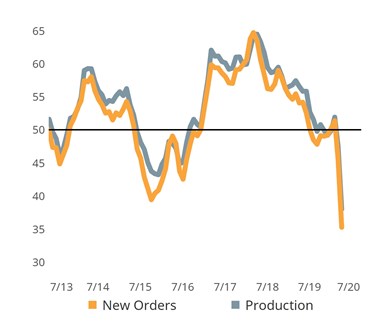 The reading for supplier deliveries also extended its upward progression from March. As addressed in our March report, the world's efforts to slow the spread of COVID-19 has significantly disrupted supply chains worldwide. It is this disruption that is slowing deliveries and thereby raising the supplier delivery reading. During the course of a normal business cycle, the supplier delivery measure is designed to increase when strong demand for upstream goods results in growing upstream backlogs. As these backlogs grow, they lengthen delivery times for input goods. It is for this reason that the supplier delivery is calculated differently from its peer components.