:::
<!#--指定分類--> <!#--detail-->
Registration for 'TIMTOS 2021' Exceeded 7,000 Booths on First Day
Online Date: 2020/06/29
Modify Date: 2020/08/03
Organized by the Taiwan External Trade Development Council (TAITRA) and the Taiwan Association of Machinery Industry (TAMI), the Taipei International Machine Tool Show (TIMTOS) will be held from March 15 - 20, 2021 across three exhibition halls — Hall 1 and Hall 2 of Taipei Nangang Exhibition Center and TWTC Hall 1. Despite the pandemic, on June 9, 2020 alone, the first day of registration for TIMTOS 2021, more than 7,000 booths were booked, far exceeding the total capacity of three exhibition halls combined. Same hotspot as previous years, TIMTOS stands firm as Taiwan's largest international machine tool trade show, showcasing the latest innovative technologies for the industry.
Among those who attend TIMTOS 2021 are members of the National Face Mask Production Team, which has become well known for its outstanding performance since the outbreak of COVID-19. The team includes Tongtai, Takizawa, Yeong Chin, Harbor , HIWIN, Kao Ming, Ching Hung, the Fair Friend Group, Keyarrow and more. They will exhibit not only their machine tools, sensors, robots, industrial Internet of Things, cloud data analysis and remote monitoring, but also their expertise on how to plan and integrate those elements with production lines, turnkey projects and Industry 4.0 solutions.
To be highlighted, rushing to submit their forms on the first day of registration were not only elite manufacturers of controllers, so called the 'brain' for machine tools, such as FANUC, SIEMENS and HEIDENHAIN, but several gurus, MAZAK, DMG MORI, Mitsubishi, Universal Robots, and Haas Automation, who have supported TIMTOS for decades. Obviously, TIMTOS 2021 will be the greatest venue for the global machine tool industry aiming at making a better world in the post-pandemic era by working together and displaying a balance between technologies and humanities.
Indeed, the COVID-19 pandemic is reshaping the world's business model, making online promotion a rising trend for the future. TAITRA has therefore initiated a series of digital marketing activities to promote Taiwan's industrial strength and to match local makers with foreign buyers. A machinery joint online exhibition has been launched on June 20. It is a leading portal for displaying products home and abroad from Taiwan's five major machinery trade shows. This will ensure easy accessibility for international buyers anytime and anywhere.
Moreover, a 'TTS Insights Online Series' will premiere on June 23. European, American and Asian media and buyers will discuss prospects and opportunities for the machine tool and automotive industries amid the pandemic, followed by a series of physical and online activities launched by TIMTOS for the machine tool industry. For more information, please visit www.timtos.com.tw.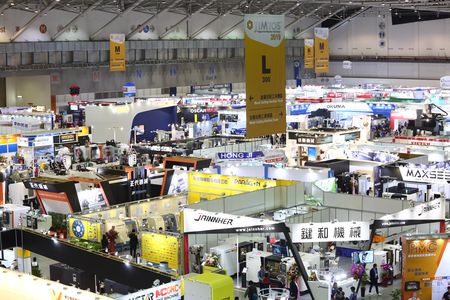 An aerial view of the TIMTOS 2019 held on the 4th Floor, Hall 1 of Nangang Exhibition Center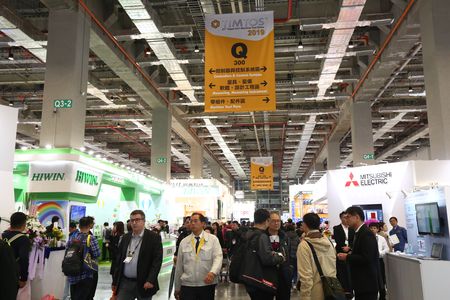 In 2019, TIMTOS exhibitors displayed smart solutions at Hall 2 of Nangang Exhibition Center, attracting many buyers